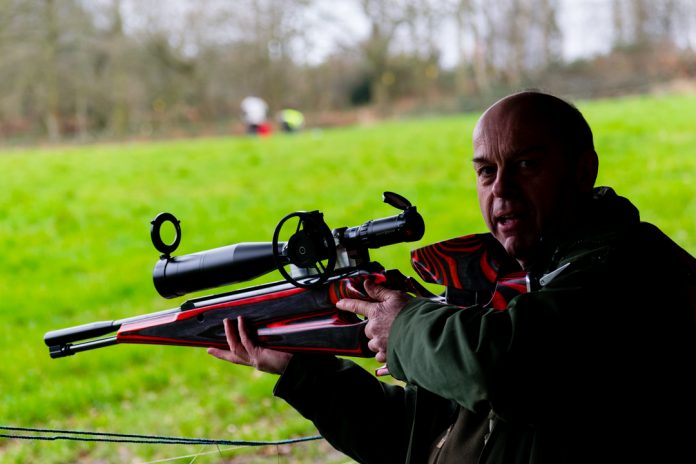 With the competition between Mark and I so close it was hard not to turn down Millride but I wasn't keen, the wind never stops at Millride even on the calmest of days. I've no idea how anyone zeroes a gun there and with predicted wind of 20mph, it was going to be a long day of battling. I was up for it though so plonked myself down on the plinker to go through the routine.
At 55yds I was taking anywhere between nothing and 8", it felt like a waste of lead but I came down to check the other ranges to see what was happening and concluded that it was all going to be on the trigger and waiting for the right time.
I wasn't wrong and although Jon said the course had a load of "gimmies" I reckon you could have removed all the reducers and knocked 10yds off each lane and it would have still been a testing course.
I started well enough in the Field of Doom but once down in the woods the wind was buffeting myself and the gun all over the place, not only was it a battle work out the wind, it was now a battle not to psychically get blown off position.
Unbelievable I had 4 go straight in the woods and coming out a kill and half at 35yds tells you just how bad the wind was, I was thankful to hit the plates on some of the targets above the quarry top as I was shooting into the clear sky just to try and get close. As Val and I went back out into the field I'd had enough but knew I need all these to stand a chance of beating Mark.
A couple of double dinks put me out of the running as Mark has been shooting brilliantly this season, I was glad to come away with what I did and shake his hand.
Well, that's the MFTA Winter League season over and what a battle it's been with the weather for the last five shoots or so.
Gilly lifted the title for AA by a clear 14 points, which Ozzy probably dropped all at Millride! Shagga Shaw came in a good 3rd but by the look on his face at Millride, he wasn't that happy with his result.
Young Andy Watkins lifted 1st place in A and has to be one of the most improved shooters in the region this season. Ian Philips wasn't that far behind him though and is one to keep your eye on in the Frayed Knott, very capable shooter. Steve Lloyd managed to pip Des Edwards to 3rd position, which is no easy task.
In B Grade Rob Long took the title with his return to shooting a PCP, Anthony Johnson was only a target behind with Dean Mayne coming in 3rd.
C Grade was won by Joshua Hurd with Rob Selvey taking second and finally Phil Riches grabbing 3rd.
Nick Murphy won the Piston Grade by a country mile with PoP favourite John Amos taking 2nd place. 3rd place was lifted by the rather wonderful Nick Gibney, keep an eye out for all 3 of these in the PJBRC 2017.
The MFTA now have a very strong top 30 shooters with a few in reserve that just had a bad season or didn't make all the shoot. The Frayed Knott and Inter-Regionals are going to be very interesting this year that's for sure.