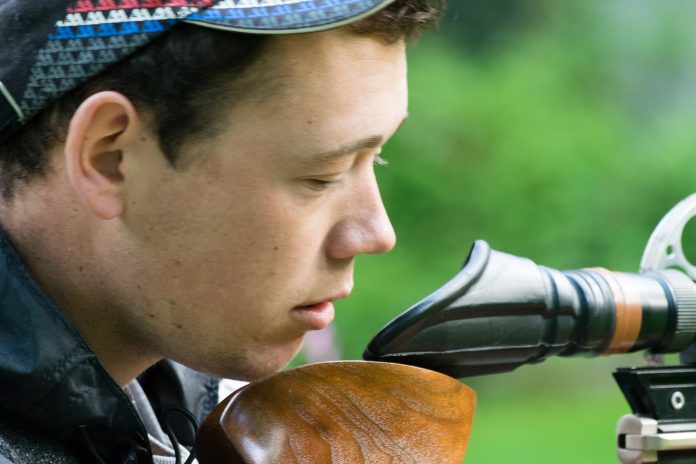 Top shooting from Neil who seems to get better the more wind there is, that's an amazing score considering the conditions. Ozzy wasn't too far behind mind with a fantastic 46, just enough to keep him top of the pile. Jack is only 1 target behind as well, I can see a great battle going on for the top position.

The Wilson's had a great weekend at Tawd with both of them picking up positions, well-done lads. English language embezzler and fellow PoP Head Yoeri wasn't happy with his score but I was, it also puts him 2 targets clear at the top of A Grade. Bobbla Banks is also knocking them down of late, after a great shoot at Hellride, he only just missed out on a badge.

I shoot around with Jonathon, cracking company and a great score as well, defo one to watch in B Grade, proper bandit. Gav did the business again, see you the car park for another badge mate. Both these lads have made an early break at the top of B grade as well, they could be hard to catch. We don't see George that often but that's a great score for a B Grader.

Close in C Grade, Wesley beat Phil in a shoot off, I thought Phil was going to do him but he promptly missed all his targets. John was having a mega shoot before the wheels fell off in the woods, still enough to get him 3rd, that's a badge mate.

Bri was up for this one and for giving me a load cockney banter on the way around, that aside, 42 with a boinger is nothing short of brilliant, I've burnt your badge mate! John wasn't far behind with Big Bertha and Steve let Bri eat into his lead but he's still 4 targets clear.

Ian is fighting back but Tony keeps knocking the scores in and so does Jules, proper battle ahead for these lads. Also good to see Big Phil back on the circuit.

I bet Neil's having nightmares about this league but looks like Jack and Ian are bang on it this season. Andy and Keith are only a couple or two behind and Red is making his presence known. Again too early but my money is on Ian Taylor!