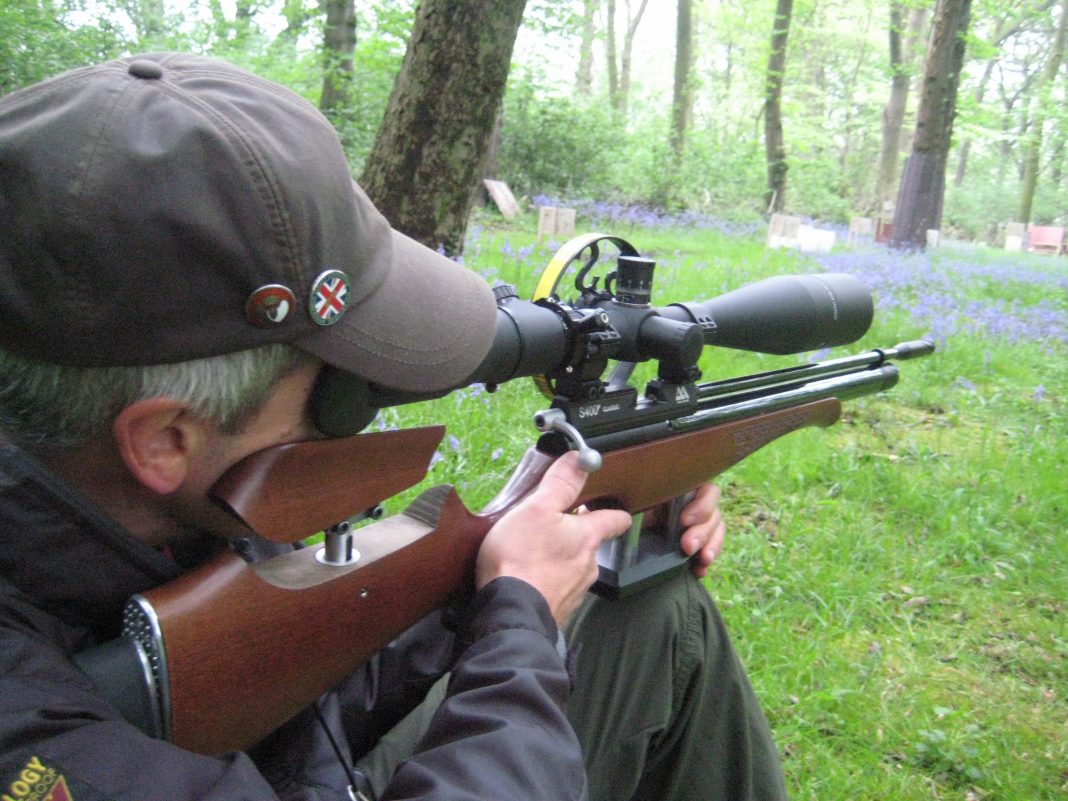 Recommending equipment in Field Target is a bit of a minefield to be honest because you can't help but notice that just about everyone has a different set-up. This knowledge will have been acquired and learned over a long period of time for many shooters. Once they've found a rig they get on with they'll be very reluctant to make changes because often that change means missing targets and another long learning curve. I really can't say this enough but before you act on any of this advice, get yourself to a club or shoot and try everything out first.
Recently I moved to a new gun, butt-hook and hamster. I don't mind saying that at times I've really struggled with all the changes and I also knew this would affect my scores. I had hoped to get on with everything a lot quicker but it hasn't worked out that way. You really have to invest a lot of time into learning your equipment but that said you can pick up the basics on the following pretty quickly and start entering competitions, so don't let me put you off with my woes of late.
If you're just starting out I'd recommend looking for quality secondhand equipment. It's not only cheaper but most of what I'm recommending will also hold its price. Every secondhand scope or gun I've owned has sold for the same price I paid for it, so you've got nothing to lose really, which is great for you and your wallet.
There is an old adage in FT that you can't buy targets. Only part of this statement is true, you can't just go out and buy the best equipment and expect to hit everything. Buying the best equipment does however give you the best chance of hitting targets but you will also need to practice a lot. There really is no fast track unless you're an absolute natural.
Scopes
Here are my second-handd recommendations, always go for 1/8th clicks on your scope as this helps with fine tuning on your clicks for all distances, more clicks are always better in my book. Imagine it like a ruler, do you want a ruler with 10 marks on it or would you like the one with 20 marks?
Nikko Stirling Diamond Sportsman 10-50×60.
More commonly known as a Big Nikko. These go for about £450-£550 depending on the model, I'd recommend version 3. This is an excellent scope that ranges very accurately and is used by more FT shooters than you can wave a stick at. It's very easy to learn with the only downside being it's a heavy scope at 2.3lbs. The Nato reticle is my favourite but it also comes in mildots.
Falcon T50 10-50×60.
You'd be amazed what this scope offers at £450 brand new and can be found at around £250-£300 second hand. Don't let the low price put you off as it does offer very reliable results. As far as I'm aware it only comes with a mildot reticle but that's a small price to pay. You'll have no trouble bringing a target into focus with this scope and you can't argue with the price at all. This one is slightly lighter than the Big Nikko at 2.1lbs
Bushnell Elite 4200 8-32×40.
This is the lightest of the bunch at just 1.3lbs and it's also front parallexing rather than being side parallexing, this can take a bit of getting use't to but it doesn't take long. This scope can take a little longer to learn than other two but it's very accurate just not as focus snappy as the Falcon or Big Nikko.
If you've got money burning a hole in your pocket and really must buy something new then I'd recommend the Sightron SIIISS 10-50×60 FT. This scope is perfect for FT, 1/8th clicks, mags down to 9yds and out to 55yds without any problems and is probably the snappiest scope on the market for the price. You won't go wrong with this scope and it's almost impossible to mis-range anything with it.
Guns
Like scopes you need to try these before you buy but all of the guns I'm going to recommend hold their value and often come up for sale secondhand. All of these guns are still being used to win titles in Field Target and they're also .177. I seriously don't recommend shooting a .22 for Field Target, the pellet trajectory is way too aggressive and falls off at an alarming rate. You can see from this diagram how much flatter the .177 trajectory actually is when you compare them both.
Air Arms S400.
This is a great starter gun for the money, you'll need to add a hamster and get the cheek piece sorted but this is a tried and tested gun. Sure it doesn't have all the bling of the other rifles and looks more traditional but I regularly get beaten by a good friend who shoots one of these. These go for about £350-£400 depending what modifications have been made, if you're lucky you'll drop on one that's had everything you need doing. Great starter gun for kids as well.
Air Arms Pro-Target MKIII.
While this gun may be showing its age now, it's still very accurate and very adjustable. It's also a lot more ergonomic than the S400 and is a proven design, I still see lots of people using these every week and it's ideal for starting out. You can find these for £350-£450 mark.
Air Arms EV2 MKIV.
We are getting close to the top of the price range but for the money, the EV2 offers you everything you need to get going, super accurate and all the adjustments you'll ever need. These go for around £650-£800 but you get a lot of gun for your money and are used by trophy winner's week on week in just about every country. You really can't go wrong with this gun.
Steyr LG100 HP. These have also been around for a while and it doesn't have as much adjustability as the EV2 out of the box but most second-hand ones I've seen have had everything done to them that needs doing. You'll find these going for around the £800 mark. Very accurate gun and a great introduction to Steyr.