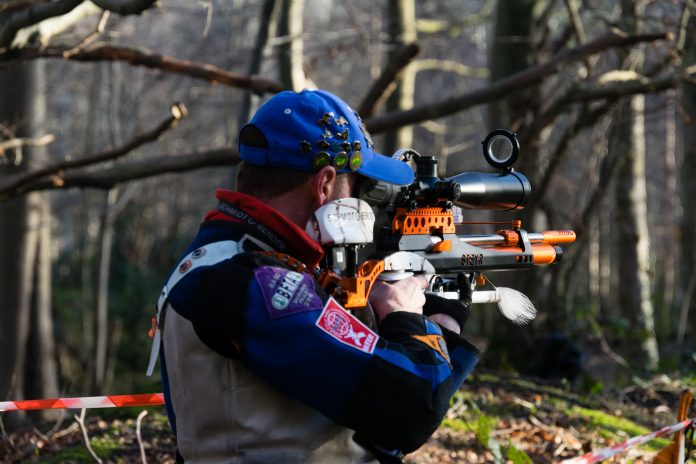 My weekend didn't start well, I overlaid on Saturday and when I go the gun out the bag it was completely empty, not the vibes I was really looking for. I whipped the cylinder off and left it for a while, it seems to be holding but I'm not sure if I've got a slow leak somewhere. I managed a couple more sets of clicks but it was way too windy and cold to be messing around much down at Anston. It was nice to see Coop down there though, someone must not have told him there was a sale on down at Comet!
Lane 13 so that meant finishing on Standers, great stuff! Add to that, I'm shooting with two SFT shooters so that means no cribbing distances. I knew the course was going to be a tough one because they always are at Anston and there's always stuff up trees, it's Andy's trademark, I'm not a fan to be honest because like everyone else it's not something anyone really practices.
First one went down but the next one went low, so did the 3rd, time to add some clicks, I've not really worked with this Big Nikko in the cold before and it's only my second time out with it so it was a case of having to do my best with it. I added a few clicks and they started to go and it's a good job because coming up was Hell Corner with loads of split targets, each needing a different edge. I gave the long goose the edge of the plate and that wasn't enough because I saw it strike 2" out the right side, there didn't look to be that much so I gave the next one a bucket load on the opposite edge and that's where it landed. It was so frustrating, another crap score on my home ground again.
I did enjoy the course but it proves to me that the weather plays such a big part of a course, 5-10mph more wind and that course would have been impossible, even Neil dropped 4 targets and he's usually brilliant in tricky wind.