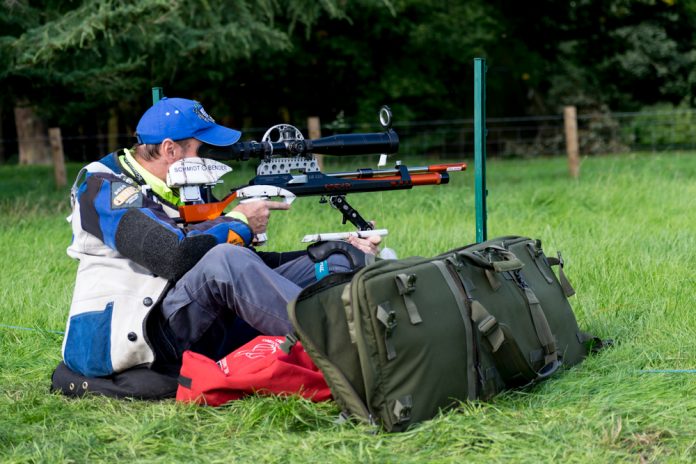 Man getting up at 6am is not the best but we'd had a good meal with the lads last night and a restless night on one of Premier Inns' Lenny Henry sized beds, I had no idea he was 4ft 5"!
Checked the gun, all good but I'd be back later for another check just to ensure everything was good, I fancied something in the high 30's today but the wind was a lot trickier and the course was longer. Lane 8 with Dangerous Bri and Edwin, well at least I'd have some great company. It didn't start well, low on both targets. Added some clicks but I was oxoing all the way through the woods. If there was a job going for stripping 4.52mm of paint at 9 and 3 O'Clock then I'd get it with my Masters Degree in it. It was infuriating, I just couldn't catch a break and I still had to pick up yesterday's wheels from the field.
I knew I had to do better in the field because the goal for next year is to get out of B Grade. It started well and ended well, which was a good job because I was walking off with just a 27, I think that's my lowest score for a long time. Gutted but the reality is I would have probably missed a Police mugshot today. Oh well, that's just how it goes sometimes and I'd had a really good run.
I really enjoyed both days, it helped take my mind off things for a while and both courses were excellent, long and tough but that's the Euros, you don't enter thinking it's going to be a cakewalk.
I got the camera out and figured I'd probably do some better shots with that instead. I paid Chubby the £1 we'd bet and went for a little sulk!
Watching the cream of the cream on that course was a bit of an eye opener, one minute they'd be clear or 1 down and the next time it would be anywhere between 3-7! Jack was still clear until target 48 and missed 3 in a row, I was gutted for him. At that point, I think Neil was only 1 down and Ian was 7, Andy managed to hold on at 6 but it was clear Neil was going to win. Just shows you that's possible to fight back after a bad first day. Watching it all unfold was very interesting, though amazing how easy it is for all to slip out of anyone's hands.
Well done to The Anston Massive for two great courses, to Sam, Paula, Linda and Sam for the stats and booking in. To Phil and Si for marshalling plus everyone else who helped make this event happen including our sponsors Air Arms, AJP and Hawke.
Also a very big thanks to Shaun Shore for all the work he's done for the sport and The BFTA, I've only had a small taste of working for The BFTA and know the amount of work he's put in, so thanks for everything Shaun, you will be missed.